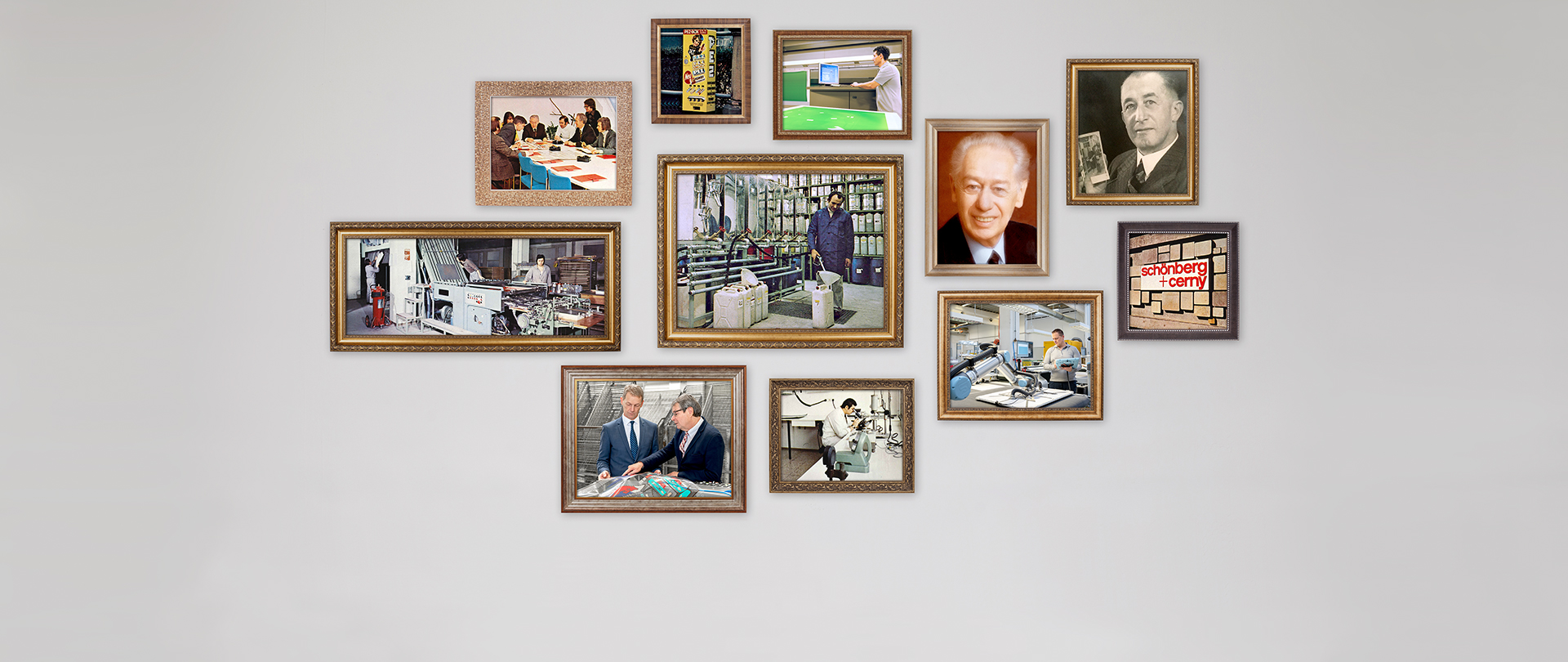 A history of
pioneering acts.
It all started with the courage to try something new
Schönberg looks back on a pioneering company history of more than 90 years. What is special about Schönberg is the courage to try something new. Schönberg became pioneers when Leo Schönberg and Josef Cerny founded a new line of production: the printing of decals through lithography, a process that was immensely successful due to the product's versatility.
As stated in the fiftieth-anniversary chronicle of Schönberg and Cerny: "The history of this Austrian decal factory is identical to the history of decals in Austria. … Dr. Leo Schönberg filled a void when he and lithographer Josef Cerny began to use lithography to produce images and text in order to supply Viennese street cars, gas stations, and machines of all types with Austrian decals."
As true pioneers in this business, the small company developed quickly. Justin P. Schönberg took over the management of the company upon his father's death in 1941. The next pioneering achievement was the establishment of Barta and Schönberg, in 1948. Barta and Schönberg first introduced lithography to the Austrian graphics industry, which until then was unaware of its potential.
Since 1959, there has been a partnership with Friedrich Bentlage in Bielefeld, out of which came the bsb corporation. Bentlage, Schönberg and Barta became pioneers in the international cooperation of companies. According to the firm's history, the task of bsb AG was "applied research, technical development, patent protection, trademark protection, and merchandising. Standardised products and processes were offered to users under the protection of registered brands." From today's perspective, it was a pioneering step toward a global market.
The success story continues.
With the knowledge that courage and pioneering work are practically embedded in the company's roots, Schönberg today offers its customers a broad spectrum of services, from offset and screen printing, letterpress and flexographic printing to digital printing and modern processes such as in-mould labelling and doming. Today, we focus on comprehensive solutions, process optimisation, and services. Schönberg is thus a sympathetic knowledge centre: large enough for market leaders, but also small enough to treat each customer with the same level of appreciation, personally and with its full range of skills.
Creating new visions.
Schönberg does not rest on its laurels. The desire both to continually develop and to acquire and inspire customers with our expertise, quality, and state-of-the-art products is part of our DNA. No road is too long and no task too big.
Since 2009, Schönberg has been a part of the Bentlage Group, headed by Christopher Hettlage. Hettlage has been supported by Udo Wahl since 2010. Their mission has been to think about the future and to help their customers make progress — as initiators of challenging technical and decorative labelling and signage solutions.
Talk to us
Tell us what you're up to and together we'll figure out the right labelling solution to move you forward.